So I decided to be the guinea pig for this website I found advertising BF3 for cheap.......It does work but you have to follow directions carefully.
So the deal:
Russian version of BF3 for $31.57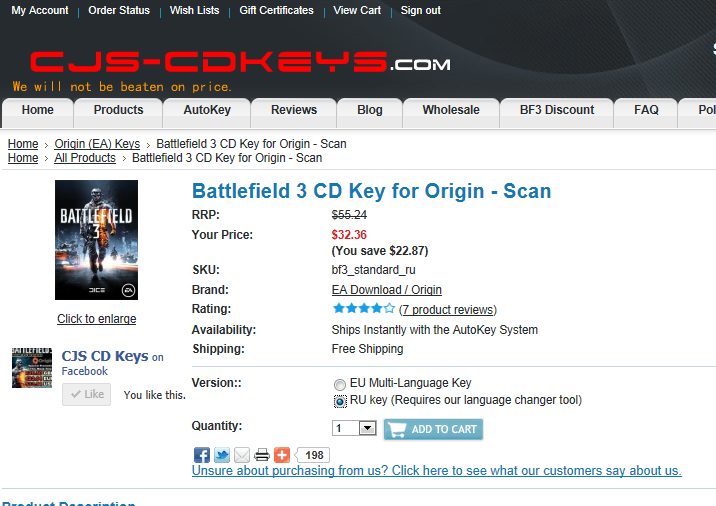 http://www.cjs-cdkeys.com/products/Battl...-Scan.html
it works they send you a picture of your Product code, and then you go in Origin and register it, and it lets you download the software. It is in russian to begin with, but with some easy changes in files and registry you are rocking the US language in no time (took us 3 hours to figure it out the first time, but we got it now.) Watch this video on how to make the changes to see if you think you can do it. Cause for a $30.00 discount I am fine with my BF3 saying I am playing the Russian verison.
[video]http://youtu.be/2SwMMES7BVo[/video]
this guys instruction were the best, even better then the ones we got from the website of purchase. Once we figured out what was wrong it was working in English in a few minutes, so follow this guys instructions.
Also if you like them on facebook they give you an additional discount making it $31.57 like I paid.
Please do not try this if you can not follow directions
......You know who you are! KillerDragon and messedinthehead get full credit for making this work, cause I just watched Killer work on my computer via teamveiwer.......LOL
note to self: change x-fire status when someone else is on your computer so there are no akward xfire messages sent to you and read by the person on your computer.......very funny though.